ABOUT
The Imprints are a live dance music duo consisting of Willow Stahlut and Linden Lester. With the pulsating feel of electronic music and the raw live energy of violin and drum kit, The Imprints are known for their slow building, psychedelic tunes that are equally at home in front of a folk festival audience as they are on an electronic festival stage.
No strangers to the international festival scene, The Imprints have performed at folk, world and electronic music festivals all over the world with highlights including Glastonbury (UK), Edinburgh Fringe Festival (UK) and Fusion (Germany). In their element in front of festival and party crowds, the Imprints have a surprisingly huge sound creating live-looped heavy bass and beats driven dance music with  elements from multiple genres including Gypsy, Indian, Dub, Jazz and Afro.
Armed with a violin and various FX pedals Willow creates sub bass, filtering guitar and psychedelic synth parts which are complemented perfectly by Linden's poly-rhythmic, high-energy drumming. Willow explains 'I use an octave pedal to create a sub bass tone on my violin, a special violin strung with octave strings to emulate the sounds of viola and cello and a bunch of effects pedals to create all the psychedelic sounds that are heard in a lot of the tracks'.
Individually they are highly respected musicians and have performed and recorded with many artists including Adalita, Goldfrapp (UK), the Cinematic Orchestra (UK), Blue King Brown, Yasmin Levy, Little Birdy, Opiuo, Ainslie Wills, Diana Ahnaid and the Bombay Royale.
The Imprints live show creates the perfect late night dance party at a festival – this has proved very popular at festivals throughout the world including Glastonbury, Fusion Festival, Boomtown, Edinburgh Fringe Festival, Beat Herder, Small World Festival, the Green Gathering, Rainbow Serpent, Apollo Bay Music Festival, Queenscliff Music Festival and many more. They are consistently named a highlight of festivals by punters and are described as 'uplifting' and 'super energetic' – it is evident when you see them play that they love performing together!
The Imprints have released three albums and an EP. Their latest album Midnight Sun was largely inspired by their time in Greenland where they played an outdoor festival in the capital city Nuuk, before sailing through isolated fjords amongst icebergs and towering mountains with the sun never setting. They are currently working on their fourth album which is due for release in early Summer 2023.
The Imprints albums are available to buy as physical CD's/digital downloads via Bandcamp (theimprints.bandcamp.com)
TOUR DATES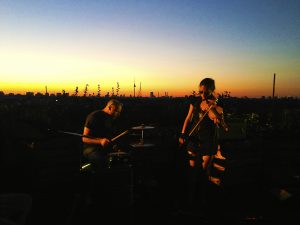 Click here for past tours and festival appearances
REVIEWS
'This Melbourne male/female duo is so undeniably distinctive, creative and experimental, that their music reaches far beyond the scope of multi-genre, it is multi-dimensional. In a world of myriad musical influences, there are few musicians who can perfectly balance the ability to deeply personify a multitude of genres in both technique and intent. For The Imprints, this appears as an effortless mastery.'
MOJO JUNCTION
'First up were The Imprints, whose set was like nothing we had ever heard before.  The Imprints are from Melbourne in Australia, Willow Stahlut plays the violin, and does some amazing work with foot pedals and live recording and Linden Lester plays the drums.
At one point we felt like we could have been in a bar in Dublin.  The magic and mystery of their tracks start off steady while Willow builds a compilation of sounds, using the violin and an array of pedals and live recording equipment that maybe the more musically savvy of you will understand.  All we will say at this point is, check out their music for yourself.'
DREAM ON, LONDON
'I was really impressed with their originality and flare featuring a melodic almost medieval styled moody violin, also using looping to create depth and harmonies, complemented by dub/reggae styled wistful drumming. With brilliant dynamics and the ability to create musical sound-scapes, they would be perfect for soundtracks. This duo have played their fair share of gigs and this is evident with how in sync they are with each other – a natural chemistry on stage. I also managed to overhear that they would be venturing over to the mother-land to play Glastonbury the following week, so I was glad I managed to catch them, they finished with a Presets cover 'Steamworks' which showed off their versatility so well.'
RAINDROPS AND ROOFTOPS, MELBOURNE
'Gypsy-infused male/female duo The Imprints kicked off the afternoon with some very distinctive and unusual use of drums and violin looping. Their cover of The Presets 'Steamworks' was stunning and atmospheric.'
TONE DEAF
LIVE VIDEOS