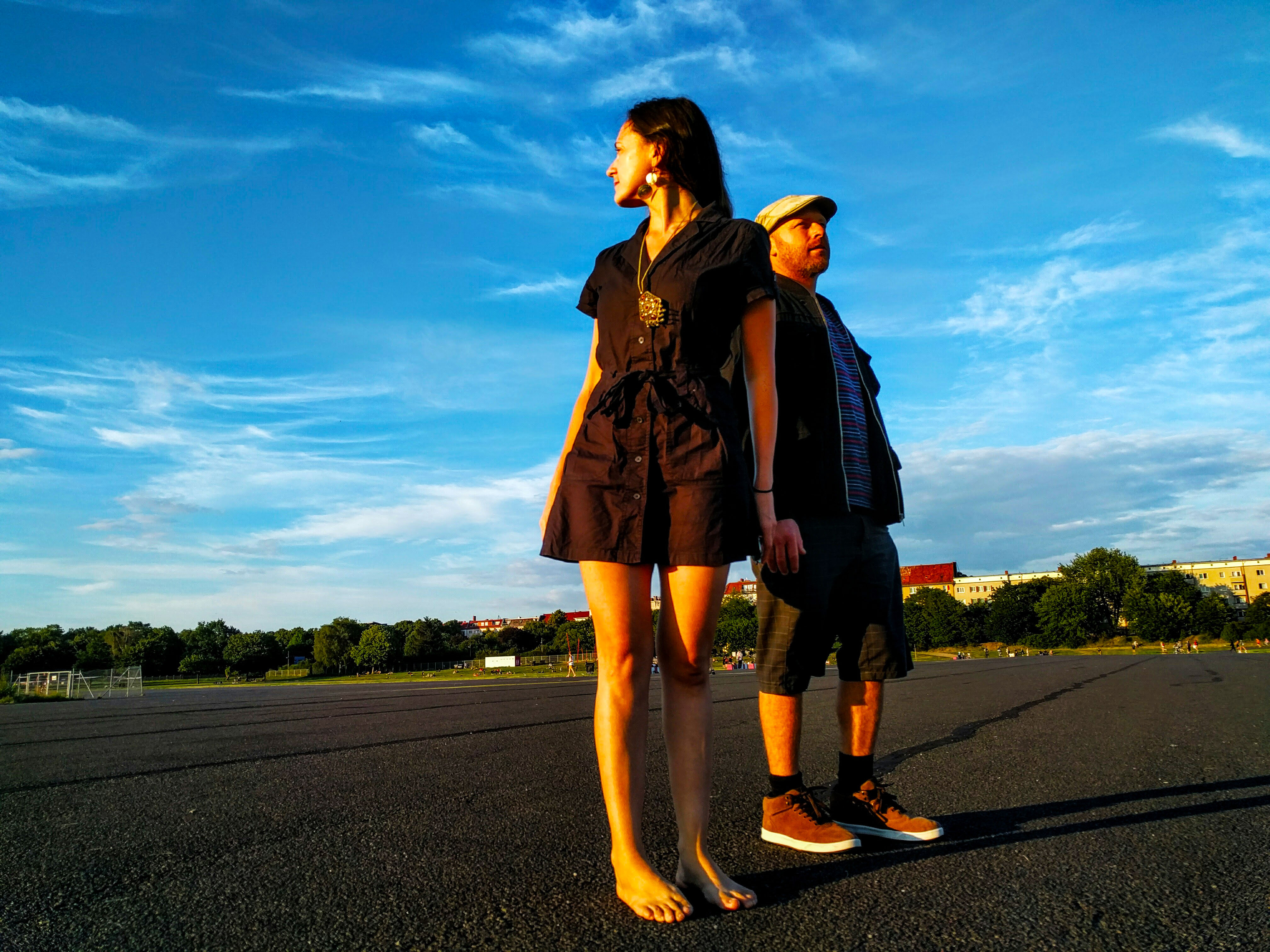 'Stunning and atmospheric' Tone Deaf

'A natural chemistry' Raindrops and Rooftops

'So undeniably distinctive, creative and experimental, their music reaches far beyond the scope of multi-genre, it is multi-dimensional.' Mojo Junction

The Imprints are an Australian duo creating dreamy dance music consisting of Willow Stahlut and Linden Lester. Armed with a violin, synth and various FX pedals, Willow creates deep sub bass lines and weaves a melodic tapestry beautifully complemented by Linden's visceral energetic approach to the drums.
Playing together since 2010, the duo has honed their signature sound, a kaleidoscopic burst of otherworldly dance music, created with live looping and sampling every time they perform. Their use of layering and build-ups to intensify the hefty bass drop has festival crowds buzzing. Inspired musically by their travels around the world The Imprints draw inspiration from the traditional music of Africa, India and Eastern Europe as well as reggae, dub and various electronic music styles.
They've toured extensively performing at festivals including Glastonbury (UK), Boomtown (UK), Edinburgh Fringe Festival (UK), Fusion Festival (Germany), Robson Valley Music Festival (Canada), Kispiox Valley Music Festival (Canada), Atmosphere (Canada), Katuaq (Greenland), Falls Festival (Aus), Rainbow Serpent (Aus), Queenscliff Music Festival (Aus) and Luminate (NZ).
The Imprints have been honoured to share the stage with great friends and fellow musicians including Greg Sheehan, Mal Webb, Parvyn and Josh (Bombay Royale) and Imprints regular Luke Collins. Individually, Willow and Linden have worked with many highly regarded artists including The Cinematic Orchestra, Opiuo, Goldfrapp, Adalita (Magic Dirt), Blue King Brown, Little Birdy, Ainslie Wills, Yasmin Levy and The Bombay Royale.
They released their latest album Midnight Sun in August 2017. The inspiration behind the album came largely from their time in Greenland where they sailed through isolated fjords amongst icebergs and towering mountains with the sun never setting.
The Imprints are currently working on their fourth album which will be released in early Summer 2023.

   
CLICK ON PICTURE, THEN RIGHT CLICK TO DOWNLOAD FROM ATTACHMENT PAGE


WEB www.theimprints.com.au
FACEBOOK www.facebook.com/theimprints
 YOUTUBE www.youtube.com/theimprintsofficial
 SOUNDCLOUD www.soundcloud.com/theimprints
INSTAGRAM www.instagram.com/theimprints
 BANDCAMP www.theimprints.bandcamp.com



 Management | Bookings | info@theimprints.com.au 
 DOWNLOAD PRESS KIT HERE
(Includes Press Pictures, Biography, Logo, Stage Plot & Technical Specifications)